This year's Cheltenham Branch Summer Outing on Wednesday 14th June will be a private guided tour of the Oxford History of Science Museum, home to one of the UK's earliest pendulum clocks, by Ahasuerus Fromanteel. This clock has recently been the subject of conservation, is in running order and can be inspected at close quarters.
In addition to the Fromanteel Clock, the museum has a fabulous collection of early astronomical and time-keeping instruments, including clocks, sundials and astrolabes, including an early C13th astrolabe with geared calendar – the third oldest surviving geared scientific mechanism in the world.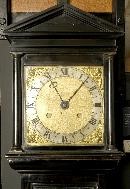 The tour will start at 2pm and will be led by Dr Stephen Johnston, Senior Research Curator. Those arriving in the morning are invited to join members of the Branch Committee who will be visiting the Ashmolean watch collection and / or dine with committee members and Dr Stephen Johnson prior to the tour.
The History of Science Museum is in the city centre, adjacent to the Sheldonian Theatre and Old Bodleian Library. Oxford has Park and Ride facilities into the city centre from N, S, E & W. Alternatively the History of Science Museum is less than 15 minutes' walk from Westgate Car Park (John Lewis), or Oxford Railway Station.
The cost of the tour is £10 per head, which the Branch have agreed to donate directly to museum funds.
The History of Science Museum has a limit of 15 visitors for this tour, so places will be allocated on a first come first served basis upon payment to the Branch Treasurer, Graham Every: watch@grahamevery.co.uk